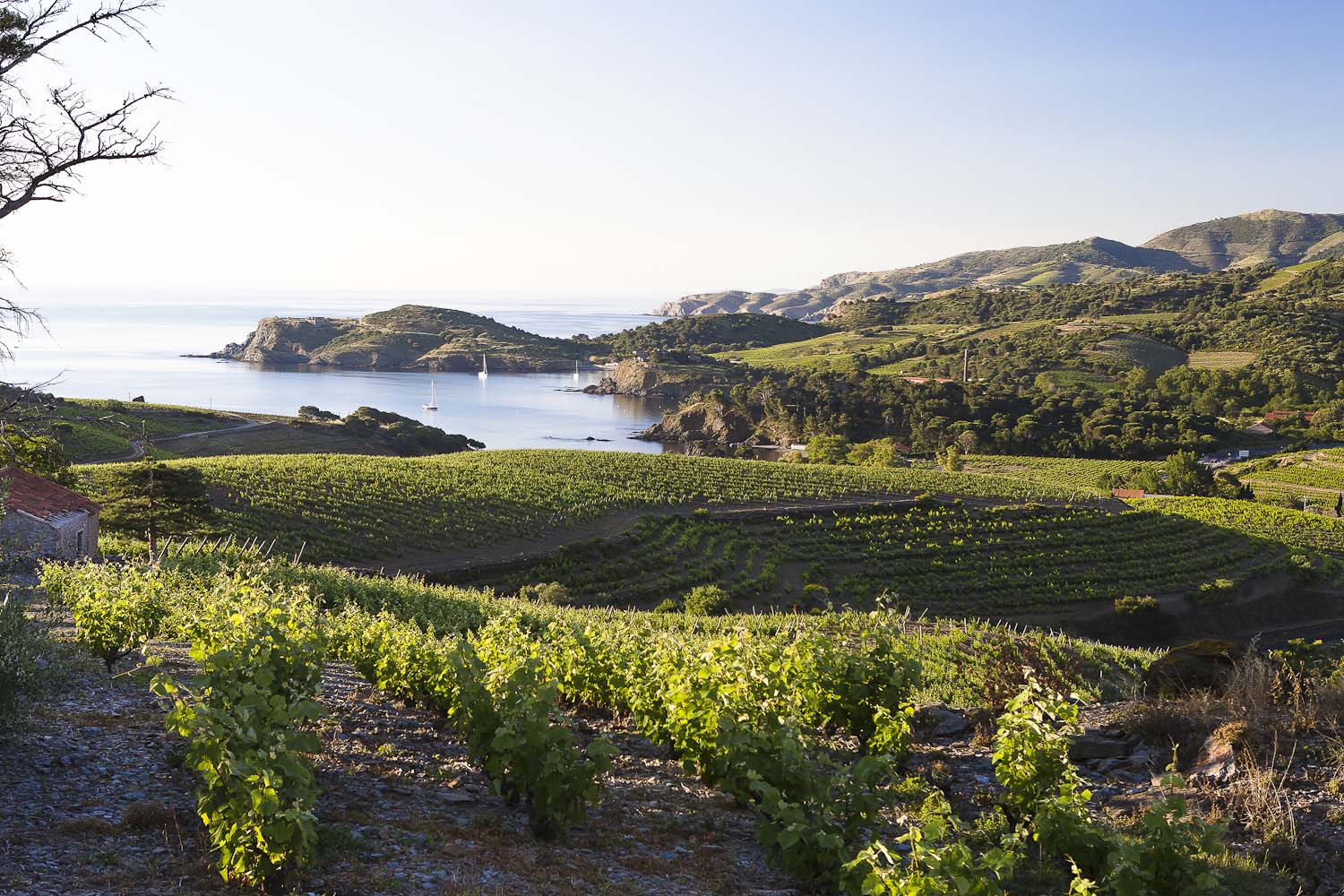 Tucked away in the south eastern-most corner of Roussillon, Banyuls is a small appellation with a big reputation. Wine production centres on the seaside town of Banyuls-sur-Mer and includes the communes of Collioure, Port-Vendres and Cerbère.
Grenache Noir is king in this appellation, providing at least 50% of the blend in Banyuls AOP and more than 75% in Banyuls Grand Cru. It is ably supported by Grenache Blanc, Grenache Gris, Muscat à Petits Grains, Muscat d'Alexandrie, Maccabeu, Tourbat (AKA Malvoisie du Roussillon), with complementary roles for Carignan, Cinsault and Syrah.
Grapes grown on the grey schistous Cambrian soils of steep terraces overlooking the Mediterranean are vinified in the traditional Vins Doux Naturel style with alcoholic fermentation stopped by the addition of neutral and pure vinic alcohol. Banyuls are given a unique twist by being aged with or without oxidation, inside or outside – either in barrels or glass jars – allowing the wine to reveal their youthful expression or go through a controlled maderisation.
The result is not one wine, but many. Oxymoric though it may seem, they are drier than most sweet wines, making them suited to aperitifs, main courses and desserts. They have extraordinary powers to match with a wide range of foods and flavours – even the most challenging.
Here are the key styles – from the lighter, fruitier rosé and whites, to the more mature complex Banyuls Grand Cru wines – along with food pairing suggestions:
Banyuls Rosé – match with sweet & sour dishes
Young, fresh wines with notes of redcurrant, blueberry and grenadine. Great aperitif wines that go with lighter bites like melon, but also versatile enough to hit the spot with sweet and sour pork and fragrant Thai dishes.
Banyuls Blanc – enjoy with tapas
Charming whites that mix floral notes with citrus and white peach. Goes well with nibbles of mixed dried fruits, as well as bigger tapas bites. For a surprise wedding, try with a sweet and savoury Indian curry, like a tikka masala.
Banyuls Ambré – pair with Nougat glacé
Deeply bronzed wines with aromas of dried fruits, figs and prunes. It goes well with appetite openers like fruits and nuts, but can come into its own with cheese, particularly salty blues like Roquefort and Stilton.
Banyuls Rimage or Rimage Mise Tardive – try with venison stew
Reds characterised by their youthful black fruit that are nonetheless elegant and complex. Frequently an aperitif but with the character to take on a rich, meaty stew… or for fun with a summer pudding or a black, spicy or bitter chocolate!
Banyuls Grand Cru  – perfect with chocolate
Mature reds that take on aromas of dried fruit, spices, mocha and tobacco. Surprisingly versatile with food. Will spar lightly with foie gras, bounce around with meaty Asian dishes, and go the distance with gooey chocolate desserts. Chocolate fondant or Opera Cake have met their match.
Like a majority of Vins Doux Naturels, Banyuls AOP can be drunk chilled or enjoyed at room temperature.