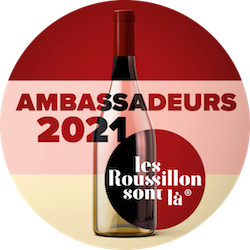 Roussillon Ambassadors for 2021
Wines of Roussillon is celebrating its Roussillon Ambassadors 2021. 42 of the region's dry wines were selected to represent the region in 2021. A panel of sommeliers, retailers, œnologists and influencers tasted a total of 250 entries before giving their verdict.
Roussillon Ambassadors feature white, rosé and red wines, including AOP Côtes du Roussillon, Côtes du Roussillon Villages and communales (Les Aspres, Caramany, Latour de France, Lesquerde, Tautavel), Collioure, Maury Sec and IGP Côtes Catalanes.
Vineyards are cultivated near the Mediterranean Sea or can be found nestled-up on hillside terraces. The resulting wines express the alchemy between the most diverse patchwork of terroirs in France, the 24 different varietals found in Roussillon, and the know-how of its passionate winemakers.
A characteristic freshness and a wide aromatic palette shines through the multiple expressions chosen to represent the very best still dry wines from Roussillon. Click here to view the full list of Ambassadors 2021.