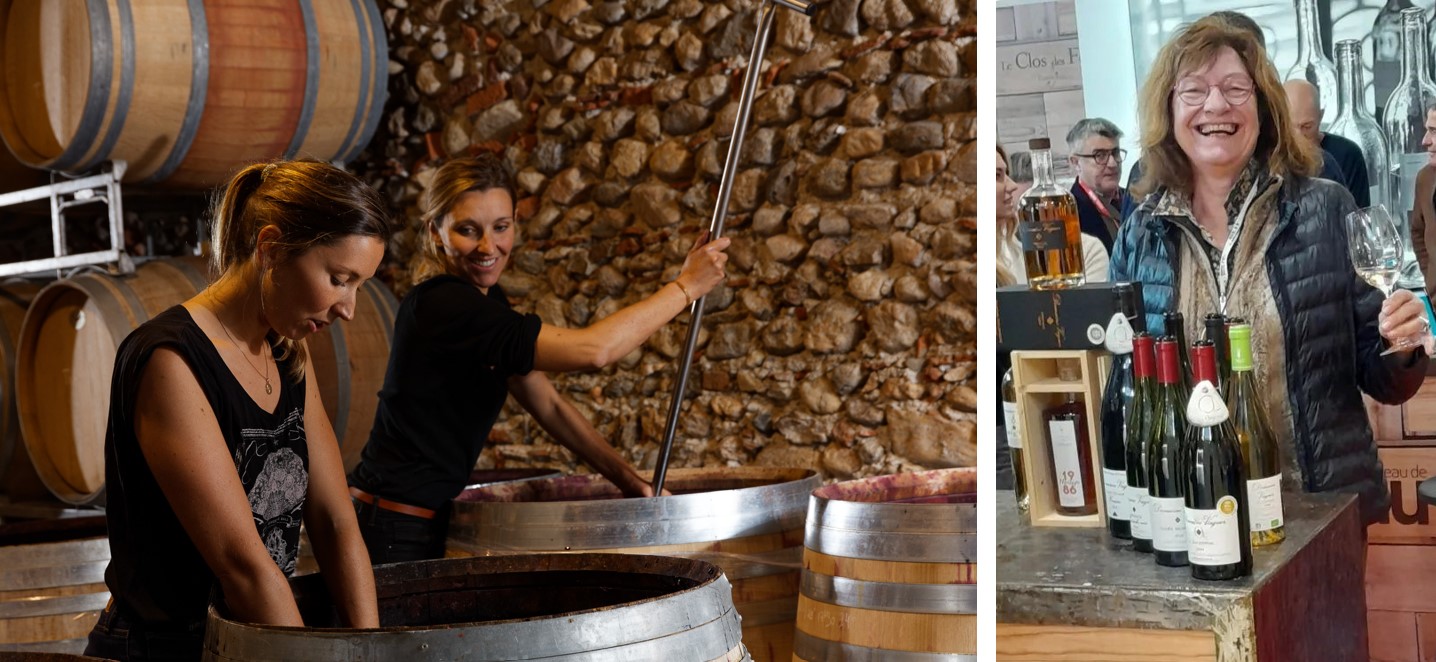 To mark International Woman's Day on 8th March 2023, we wanted to celebrate the women of Roussillon who contribute so much to winemaking in the region. Their stories, personalities and passions mirror the complexity and nuances found across Roussillon's terroirs. Here we catch up with two of Roussillon's dynamic winemakers and ask them what the future holds.
#IWD2023 #EmbraceEquity
Frédérique Vaquer, Winemaker, Domaine Vaquer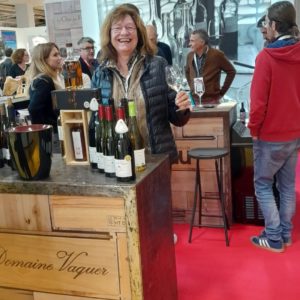 Frédérique is originally from Burgundy. She met her husband Bernard studying oenology in Dijon and together they took over his family estate in Tresserre, Roussillon.
A widower since 2001, Frédérique has built on the strong winemaking tradition of the 17-hectare domaine with her trademark energy and passion. True to her roots, she makes terroir-focused and elegant reds and dry, saline whites with remarkable precision.
Her vineyard is located at an altitude of 200m in the heart of the Aspres. Vines overlook the wonderful scenery of the amphitheater open to the Mediterranean sea, offering stunning views over the Albères mountains.
She has always used what she calls "reasonable" farming methods: cultivation and harvesting managed as naturally as possible, responsible to and respectful of the terroir handed down by ancestors – so it can be passed on to the next generation. In order to consolidate this vision, she has just converted the estate to organic status and 2022 will be her first official, organic vintage.
We caught up with Frédérique to ask her a few questions….
In your opinion, what do women bring that is different to winemaking or vine growing?
"As a winemaker and oenologist, I would say that women are not afraid of following their instinct. I trust the crop and only intervene if I have to. I love comparing a vintage to a child: let them grow and chose their path but guide them in the right direction when necessary. Just like you would do for a wine if there was an aromatic diversion."
Which aspect of your job do you feel the most passionate about?
"With no hesitation, sharing the wine with clients! That moment when they discover a vintage and I narrate its story."
Where is the future for Roussillon wines?
"That's a difficult question. It's hard to speak on behalf of everyone, but for my wines I want their future to be steeped in the quest for balance and freshness, and for my reds, to have silky and easy to digest tannins. We also have to think carefully about heat resistant varietals."
Who is your female inspiration?
"My daughter, I am so proud of her choices!"
If you weren't a winemaker, what would you do?
"I would probably be an actress! I love the theatre and have participated as an amateur for a very long time. I even attended classes at Perpignan Conservatory. I intend to get back into it when I have a bit more time or when I retire!"
Julie and Pauline Nadal, Château Nadal Hainaut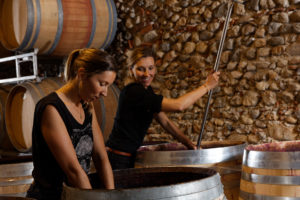 Julie and Pauline Nadal represent the 6th generation of the family-run Château Nadal Hainaut. They work alongside their mother Martine, their father Jean-Marie and other sister Marie-Luce.
Their vineyard is located in the 12th century Sainte Eulalie Cistercian priory and has been in the family since 1826. It is therefore with a strong sense of tradition and respect that they approach their craft, but also with great care for nature. They obtained the AB Ecocert – "Agriculture Biologique" organic certification – in 2010.
As well as both being directly involved in winemaking, Julie is in charge of management and production whilst Pauline oversees the marketing and communication side of the business.
Château Nadal Hainaut will present some of their wines at the London Wine Fair in May. In the meantime, Pauline kindly agreed to answer a few of our questions….
In your opinion, what do women bring that is different to winemaking or vine growing?
"Many things! Women have a different sensibility. They are mindful in their approach in creating a product from the earth to the bottle and they are risk takers (in a good way). They tend to be perfectionists, because they must prove themselves in a patriarchal industry. Our father Jean Marie has a master's degree in oenology, and he taught us everything we know today, he is a great mentor. In spite of his vast experience, he chose to appoint an oenologist, Helene Grau, who brings her incredible skills and wisdom into the mix. In our company, we hire 50% men, 50% women and it's very interesting to see the synergy between them growing. I celebrate that."
Which aspect of your job do you feel most passionate about?
"All stages of the harvest, from the juice to the bottle – we do absolutely everything ourselves. Winemaking process is an art, because we are creating something. From the soil and the vines that we nurtured all year long, we harvest the grapes, make wine and bottle it. It's an incredible feeling! But what I prefer the most is the first stage of the vinification process and designing new labels (I'm trained in graphic design). Working on wine labels for our clients keeps my artistic mind at peace."
Where is the future for Roussillon wines?
"Roussillon has great possibilities ahead. First, because many vineyards are converting to organic winegrowing, making sulphites-free wines, natural wines with great labels (the visual is very important). We see more and more young winemakers setting up and they make wonderful wines. They don't feel stuck by an "appellation's diktat", like some other appellations in France. Roussillon winemakers are seeing their reputation grow because they make original wines. Moreover, the soil is very diverse in Roussillon so people can discover all kinds of wines."
Who is your female inspiration?
"Yoko Ono, for her vision of Arts and all her skills."
If you weren't a winemaker, what would you do?
"I studied Fine Arts and ceramic at Central Saint Martins in London. If I wasn't a winemaker, I would be a ceramic artist. But despite it all, it is all very connected. Today I work with my hands, my head and my heart and I think it is what you need to be an artist."