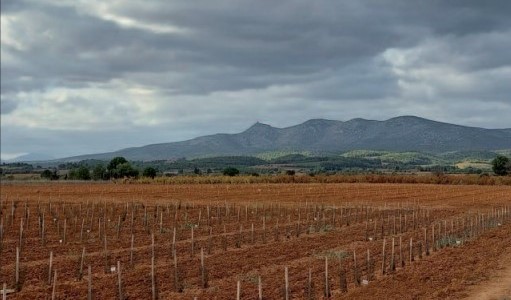 Experimental Roussillon vineyard trials new grape varietals
Vinipôle Roussillon's experimental vineyard, enters a new phase of development as it welcomes a new collection of drought-resistant varietals.
Eighteen new varietals have been planted on a 0.2-hectare plot in the experimental Rivesaltes vineyard. They include 12 white and 6 red varietals. Some are already well known such as Alvarinho, Agiorgitiko, Parellada, Montépulciano or Verdejo while others are still relatively unknown, such as Falenghina, Cataratto bianco or Perricone.
New trials also include rootstock testing and research for Syrah grafting. 12 different rootstocks will be tested or retested in current climatic conditions with results expected for the 2024 harvest. Those will be analysed and compared with a similar experiment taking place in the Drôme region.
As Roussillon heads towards another very dry summer, the work of Roussillon's research and development facility is even more vital and urgent. France has experienced its worst winter drought since 1959, with 32 days without rain, and the region's ground water levels are already at a record low.
Vinipôle Roussillon's experimentation in viticulture and oenology aims to find solutions to support winemakers tackle climate and societal challenges. Other current initiatives include research into local and heritage grape preservation, cloning and pest management.
Muscat of Alexandrie is a recent addition at Vinipôle, with 27 different clones of muscat planted with varying characteristics such as white and rosé, French and foreign, small and big grapes.
Catalan varietals collection, white and red, have also been planted in an effort to study and preserve them; this collection includes nowadays a total of 16 varieties.
Cloning work for grey and white Grenaches will carry on whilst a more traditional approach to growing white and grey Carignan will continue in order to satisfy the demand for its regular planting over recent years. Local varietals such as Tourbat (Malvoisie du Roussillon) have been planted.
Tests will be carried out on varietals resistant to oidium and mildew. 16 white and 18 red varietals will be planted this year on a 0.21-hectare plot of land. The aim will be to gather information on the varietals response to the summer draught which has been affecting the industry for several years and under even more extreme conditions this year.
Vinipôle Roussillon was created in 2022 as a collaborative project between the Conseil Interprofessionnel des Vins du Roussillon, SAFER, the Chambre d'agriculture des Pyrénées-Orientales and Rivesaltes Agricultural High School.