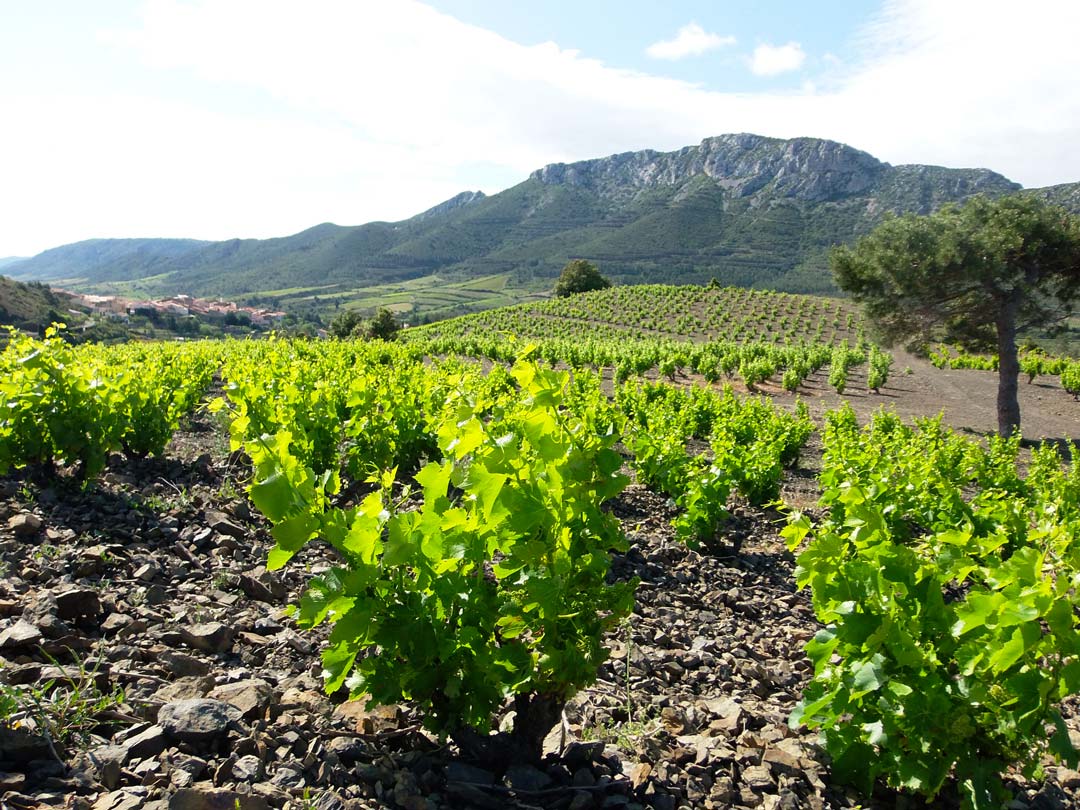 Maury's rugged beauty delivers powerful and elegant dry and fortified-sweet wines.
Located in the north-western corner of Roussillon, in a naturally shaped corridor between the Corbières and Pyrenees mountain ranges, Maury's vineyards are centred across 4 communes: Maury, Tautavel, Saint-Paul de Fenouillet and Rasiguères.
224 and 165 hectares of vineyards respectively are dedicated to the production of fortified sweet and dry wines under the Maury Doux and Maury Sec AOPs (Data 2022).
Against the impressive backdrop of the Pyrenees mountains, at altitudes ranging from 150-500 meters above sea level, the vineyards of Maury are primarily planted on steep terraced slopes that cascade down hillsides of black marl and schist. Vineyards are surrounded by garrigue, a diverse Mediterranean ecosystem brimming with aromatic herbs such as thyme, rosemary and sage interspersed with junipers, olive trees, almond trees and wildflowers.
A multitude of micro-terroirs and the unique combination of soil, altitude, sun exposure, and winds from the Pyrenees produce grapes with intensely concentrated flavours and exceptional complexity.
Schist is the dominant soil type in Maury. In addition to its excellent water retention capabilities and good heat absorption properties, it provides low fertility and encourages vines to concentrate their energy on high-quality grape production. Calco-schist another soil type found in Maury, is similar to Schist but with a more layered structure.  It also offers good drainage and contributes to complexity in the wines. Some granite or chalkly soils can be found at higher altitudes, often resulting in wines with marked minerality.
Grenache Noir dominates in Maury where it thrives in the region's arid conditions. A variety well-suited to the Mediterranean climate, it performs particularly well on this terroir. Vines are typically trained low to the ground to protect them from the intense sun and winds. Maury's Grenache Noir produce wines with concentrated fruit, pronounced aromatics, and balanced body and freshness.  Other varieties, such as Carignan, Syrah (and Mourvèdre), are also cultivated but in smaller quantities.
Maury's reputation was forged by the production of Vin Doux Naturel (VDN) wines and the appellation's unique ability to produce complex, powerful fortified wines with great ageing potential. The AOP Maury Doux is one of Roussillon's oldest appellations dating back to 1936. Later, in 2011, it recognised its individual sweet-fortified wine styles: Tuilé (tawny), Ambré (amber), Grenat (garnet) and Blanc (white).
Crafted using the traditional 'mutage' process, where fermentation is halted by the addition of neutral grape alcohol, Maury VDNs retain natural sugars, complex flavours and backbone acidity.  Skilled ageing results in rich, luscious, and expressive fortified wines with surprising freshness and intense fruit expression. 
Maury Grenat are strong and complex wines, with notes of black fruits and garrigue. Maury Tuilé wines are aged for a minimum of 24 months in an oxidative environment, which is reflected in their signature dried fruit, cocoa and coffee aromas. Both can show a single Grenache variety or are blended with a minimum of 75% black Grenache and a maximum of 10% Maccabeu, or Black Carignan, with grey and white Grenache making up the balance (source AOP Maury website).
Maury Whites boast notes of white-fleshed fruit, citrus and candied citrus peel. Maury Ambré are complex wines with notes of candied white and yellow fruits, gingerbread and caramel. The varietals used are grey and white Grenache, Maccabeu and Muscat (20% maximum). (Source AOP Maury website)
Maury also produces dry red wines, under the Maury Sec AOP. Created in 2011 Maury Sec AOP wines offer a different expression of the region's terroir, showcasing the potential of Black Grenache, Black Carignan, Syrah, and Mourvèdre. Maury Sec wines are known for their richness, complexity, and bold dark fruits mixed with spices and notes of garrigue.
They are full-bodied with structured tannins and good ageing potential. Black Grenache makes up between 60% and 80% of the blend. Complementary varietals include black Carignan, Syrah and Mourvèdre. 10% of Lledoner Pelut can also be used.
Winemaking in Maury is not for the faint-hearted but know-how, patience, and hard work rewards producers with highly expressive grapes to handcraft some of the most distinctive wines in the world. Try one of these wonders when you next have the opportunity. Here are a few that are available in the UK: Where to buy Maury Aop | prices & local stores in UK (wine-searcher.com).
Photo courtesy of maury-aop.fr