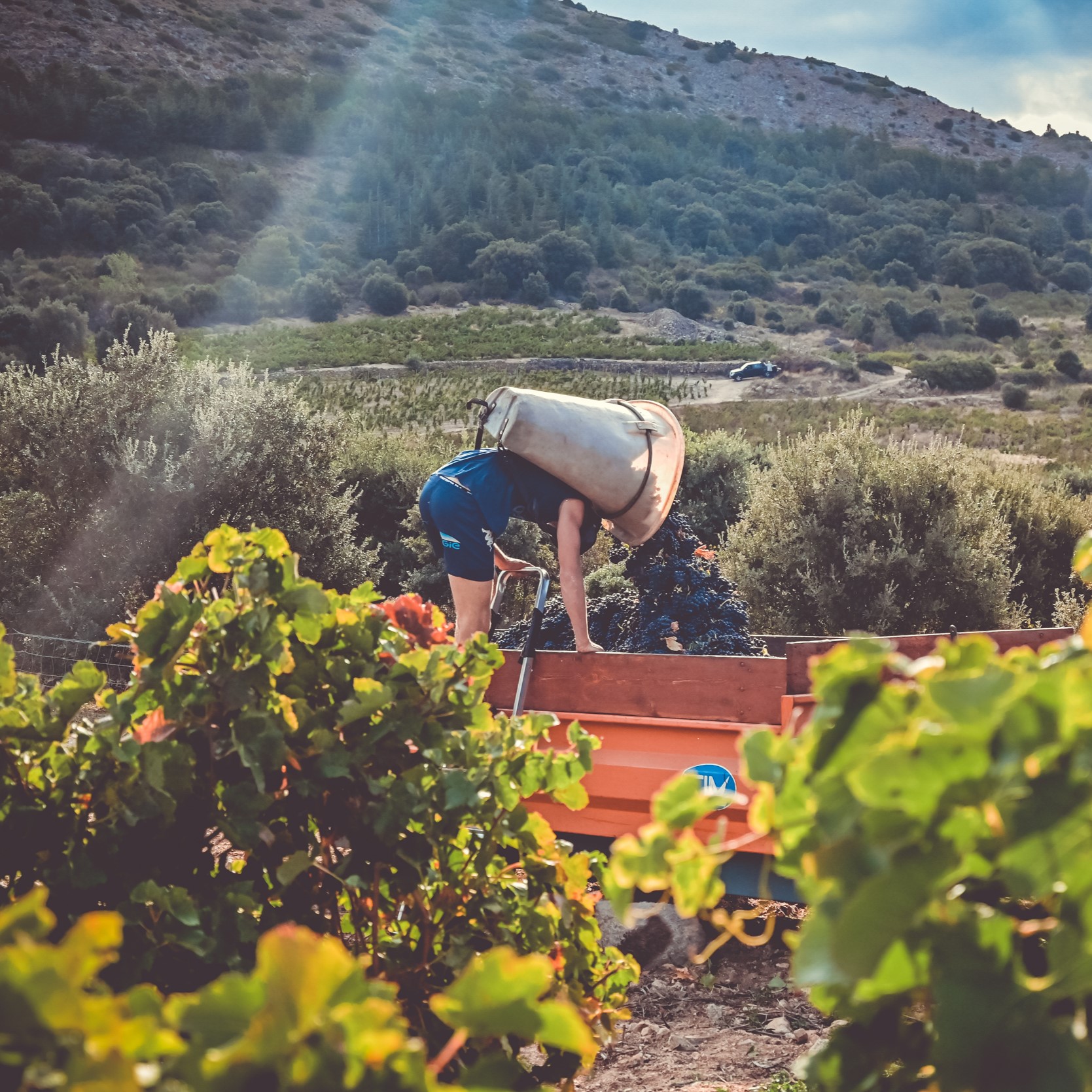 Lower yields but quality shines through: a glimpse at Roussillon's 2023 Harvest
In the face of challenging climate conditions that reduced yields by 30-50%, Roussillon producers who were able to nurture their vines to full maturity and retain acidity achieved great quality in 2023. What is striking, and typical of Roussillon's complex patchwork of micro-terroirs, is how widely reports can differ from site to site.
2023 has been a year of unprecedented drought in Roussillon with less than 200mm of rainfall recorded over the past 12 months. Despite a strong start to the year, with good flowering for all varieties in early spring, the lack of water meant that self-regulating vines started to shut down.
By June, coulure was widespread for Muscats d'Alexandrie, Marselans, and even for more naturally heat-resistant Grenaches or Carignans, affecting as much as 90-95% of grapes in certain areas.
Where development took place, shoots tended to be smaller than the norm and vines presented a distinct lack of foliage. In mid-June, an already tense situation was made worse by the presence of oïdium and mildew in vineyards.
In addition to a predicted loss of 30-50% of grapes for 2023, early August brought genuine concern about the long-term health and productivity of vines that remained dormant, especially old vine stocks. Summer heat accelerated concentration and some grapes contained very little juice.
Harvest in Roussillon started on 2nd August, a day earlier than in 2022. Growers tended to pick plot by plot, carefully measuring ripeness and acidity levels across their vineyards. In spite of challenging growing conditions through much of the season, late August rains followed by a sanitising Tramontane wind, restored optimism. On the main, rainfall managed to infiltrate the soils, bringing much needed moisture to root systems. Winemakers reported benefits for both grape growth and maturity.
In 2023, more than most years, the individuality of Roussillon's micro-terroirs alongside expert vineyard management, were the determining factors of success. By and large, areas with higher levels of humidity, or which benefited from irrigation, like Fenouillèdes, fared best with higher volumes as well as grape maturity. Vineyards near the sea or at higher altitude also did well.  Expertise and know-how played a key role. Regenerative viticulture proved beneficial and soils with permanent cover due to the absence of tilling produced higher yields.
Total production for 2023 is currently expected to reach 400,000 hectolitres, down from 550,000 in 2022, although quality is expected to be on a par. Eric Aracil, co-director in charge of exports at the CIVR, explains: 'Whilst acidity levels are lower, they are perfectly acceptable, and mature grapes show beautiful concentration and unexpected freshness. The extreme climate may have forced a lower yield but the quality associated with so many Roussillon wines will still shine through.'
Photo Saint.e