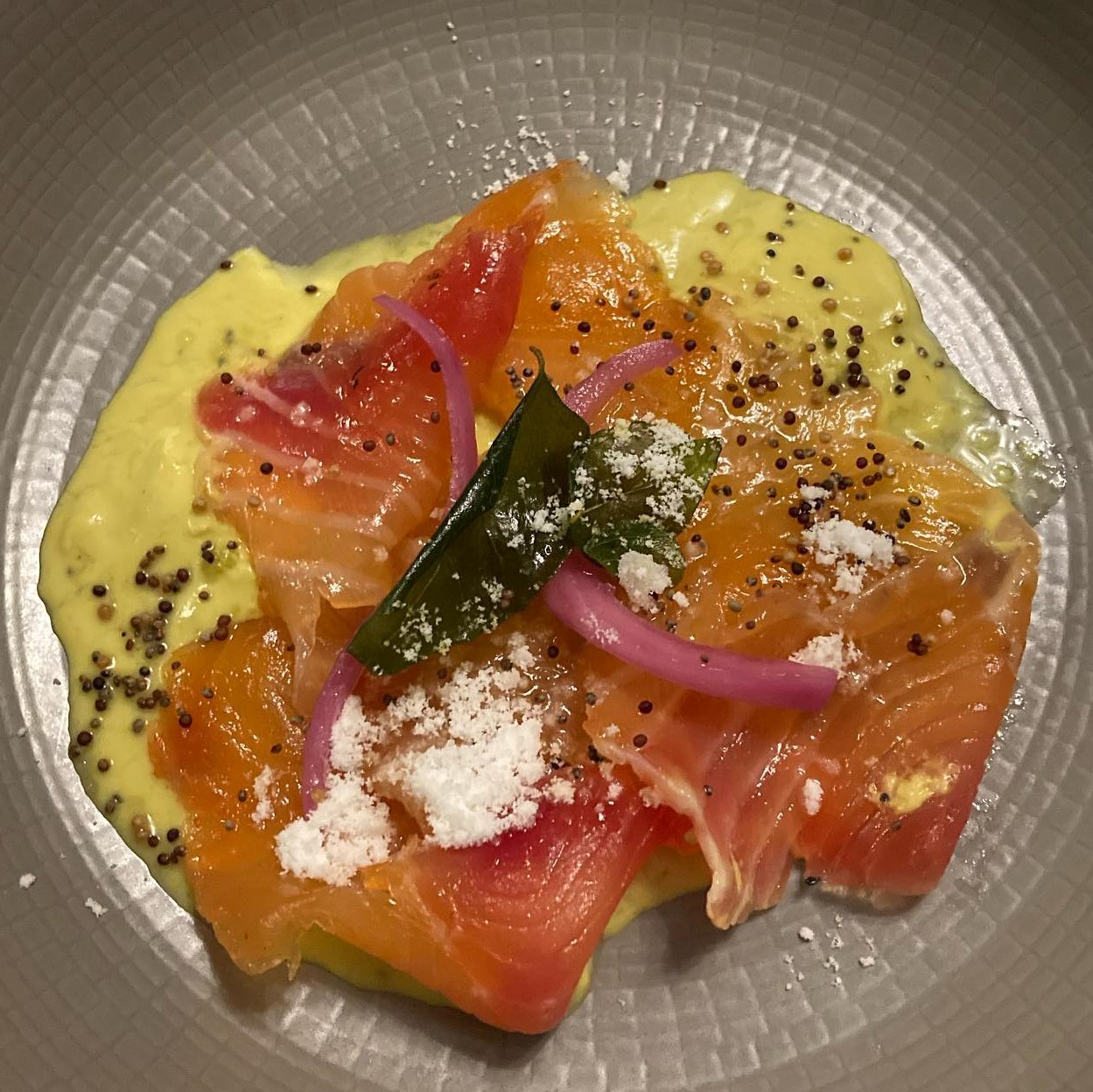 Indian food and Roussillon wine pairing
Last month, we put the ability of Roussillon wines to match Indian flavours to the test during an evening of food and wine pairing at The Cinnamon Club in London. Playfulness and open-mindedness were at the centre of this collaboration between The Cinnamon Club and Wines of Roussillon.
Consultant sommelier Laurent Chaniac and Chef Vivek Singh's team designed a menu around a selection of dry and fortified sweet wines from Roussillon. Spices, textures and proteins were carefully chosen to provide complementary as well as contrasting matches to Roussillon's whites, reds and Vins Doux Naturels. Guests had the difficult task of tasting through 4 courses and assessing it all. The verdict? Read on…
To kick start proceedings, a selection of canapés was served with a glass of 'Muscat Ginger', a cocktail based on Muscat de Rivesaltes, topped with Ginger Beer and served with a slice of lemon in a tall glass.
Move over white port and tonic, this refreshing long serve is perfect to cool the spice of The Cinnamon Club's delicious canapés. Dom Brial Muscat de Rivesaltes 2019 (100% small grapes Muscat) was used by the bar team. Rather than an emphasis on sweetness, the resulting cocktail boasted balance and freshness.
The notes of ginger complemented the dishes superbly and the touch of sweetness in the cocktail cooled the palate leaving it ready for more delicious, spiced morsels of Tandoori chicken tikka with fennel and coriander (top match), stir-fry of shrimps with chilli and apricot glaze and Indo-Chinese chilli paneer with soy and garlic.
The first course was a starter of home cured carpaccio of Shetland salmon, mustard caviar and curry leaf snow, served alongside two Grenache-led whites both boasting stunning bright fruit, luscious texture and crisp acidity. 
Domaine Cazes, AOP Collioure, Les Clos de Paulilles, Blanc, 2020 (80% White Grenache 20% Grey Grenache) showcased intense notes of garigue and the typical 'saltiness' characteristic of Collioure. It was a superb match with the salmon, its roundness and complexity complementing the cured fish perfectly.
Jonquères d'Oriola, AOP Côtes du Roussillon, Château Corneilla Cavalcade Blanc, 2019 (60% white Grenache, 20% Macabeo and 20% Vermentino) provided a perfect match, its expressive notes of stone fruit, white flowers and toasty vanilla spice harmoniously blending with the flavours and spicing of the dish. The complex, rich palate, subtle minerality and acidity of this Côtes du Roussillon AOP working harmoniously with the oiliness and texture of the cured fish.
The first main course was a pan seared Gressingham duck breast, with sesame tamarind sauce, served with stir-fried bok choy. Here, we experimented with 2 Roussillon reds and presented Domaine de Bila-Haut, M. Chapoutier, AOP Côtes du Roussillon Villages, Les Vignes de Bila Haut, Rouge, 2019 (40% Syrah, 30% Grenache, 30% Carignan) and Mas Amiel, AOP Maury Sec, "Légende", Rouge, 2015 (80% black Grenache and 20% Carignan).
The fruitiness and supple tannins in both reds complemented the duck beautifully. Les Vignes de Bila-Haut rouge offered a young, vibrant, fruit-forward wine pairing which livened up the dish. Its spiciness worked beautifully with The Cinnamon Club's spicing on the duck.
The 2015 dry Maury, the Mas Amiel Légende, boasted soft tannins, freshness and vivacity. The richness, and great aromatic depth of this wine, made from old Grenache and Carignan vines, matched the savoury and sweet elements in the dish and delivered a beautiful finish.
The second main course consisted of Kodava style slow braised pork belly with soy and honey, and a masala mash, served with two Rivesaltes Ambrés from Roussillon: Château de Jau, AOP Rivesaltes Ambré, "Chez Jau", 2007 (80% white Grenache, 20% Macabeo) and Dom Brial, AOP Rivesaltes Ambré, Réserve, 1989, 1979, 1959 (60% Macabeo, 30% white Grenache and 10% grey Grenache).
Roussillon's Vins Doux Naturels offer endless food pairing possibilities. Fortified sweet wines such as Rivesaltes Ambré or Maury are a great match with Asian cuisine, their relative sweetness levels, balanced structure and complex secondary aromas, especially in aged wines, creating exciting combinations.
When it came to serving our Rivesaltes Ambrés from Roussillon with the rich, sweet Asian pork belly with soy and honey, our diners were split. Some were craving a higher acidity level in the wines to cut through the fattiness of the meat– perhaps something that an Alsace late harvest Riesling might provide more abundantly. Others however really enjoyed the pairings with the Rivesaltes Ambrés, particularly because the acidity in the wines was not too high, something which at this stage in the meal they didn't want. This allowed diners to concentrate on flavour and subtle nuances in the spices – both in the dish but also in the wines.
Château de Jau, AOP Rivesaltes Ambré, "Chez Jau", 2007 has a luminous, deep, golden colour with amber hues. It reveals wonderful aromas of honey, orange peels, dried fruits and fig on the nose. An intense creamy texture and a lovely roundness carries notes of candied nuts, gingerbread, liquorice and sweet spice.
Sweet, fortified wines are firmly rooted in Dom Brial's identity and diners were treated to not one but three vintages of their AOP Rivesaltes Ambré Réserve collection. The 1989 Dom Brial Rivesaltes Ambré was served alongside the main course, its complexity and youthfulness wowing guests. Dried apricot and yellow peach jam, mixed with vanilla and coconut on the nose tantalises the senses. Very fine on the palate, not overly sweet, well balanced with nice freshness, it carries rich dishes elegantly all the way to a nutty, spicy and honeyed stone fruit finish.
This is not food and wine matching for the faint-hearted but indulgent, decadent pairings which would be ideal for the festive season. 
Dessert was a delight of orange glazed, dark chocolate tart with a date and prune chocolate mousse, accompanied by two very special Vins Doux Naturels: Les Vignerons de Maury, AOP Maury Doux, Solera, Tawny, 1928 (100% black Grenache) and Domaine La Tour Vieille, AOP Banyuls, Réserve, Tawny, NV (80%  Black Grenache, 15% Grey Grenache and 5% Carignan).
We nearly didn't need dessert but were glad we pushed ourselves in the name of our experiment!
Les Vignerons de Maury Solera 1928, entices you with notes of coffee and hazelnut, supported by blackberry confit and fig aromas. The alcohol and sugar are well balanced against firm tannins. The palate is full-bodied and luscious, with a salty character on the finish. It paired superbly with the various elements in the dessert, its fruitiness a great match with the orange glaze and fruity elements in the dish.
It is impossible to go wrong with dark chocolate and Banyuls and the Domaine La Tour Vieille Banyuls Réserve did not disappoint. A classic blend of black and grey Grenaches and Carignan, it has a spicy, dried fruit pluminess – rather like a tawny port. These flavours combined particularly well with the date and prune flavours in the dessert while providing a marvellous match for the dark chocolate tart. We could have gone even darker with the chocolate for an extreme taste sensation.
If you would like to recreate some of the above pairings (which we would strongly urge you to do!), see our stockists list below.
Dom Brial Muscat de Rivesaltes 2019 – price available on request, Daniel Lambert Wine
Domaine Cazes, AOP Collioure, Les Clos de Paulilles, Blanc, 2020 – prices vary between £19.25 and £22.50, Wine Searcher
Jonquères d'Oriola, AOP Côtes du Roussillon, Château Corneilla Cavalcade Blanc, 2019 – £15.50 at Wine Boar and £18.95 at Waddesdon Manor
Domaine de Bila-Haut, M. Chapoutier, AOP Côtes du Roussillon Villages, Les Vignes de Bila Haut, Rouge, 2019 – prices vary between £10.50 and £12.46, Wine Searcher
Mas Amiel, AOP Maury Sec, "Légende", Rouge, 2015 – Currently not available in the UK but the 2018 vintage is available for £26.95 at Perfect Cellar
Château de Jau, AOP Rivesaltes Ambré, "Chez Jau", 2007 – £15.90 (50cl), Joseph Barnes Wines
Dom Brial, AOP Rivesaltes Ambré, Réserve, 1989, 1979, 1959 – prices available on request, Daniel Lambert Wine
Les Vignerons de Maury, AOP Maury Doux, Solera, Tawny, 1928 – prices vary between £16.74 and £21.50 for a 50cl bottle, Wine Searcher
Domaine La Tour Vieille, AOP Banyuls, Réserva, Tawny, NV – usually available for £23.75 from Yapp Brothers