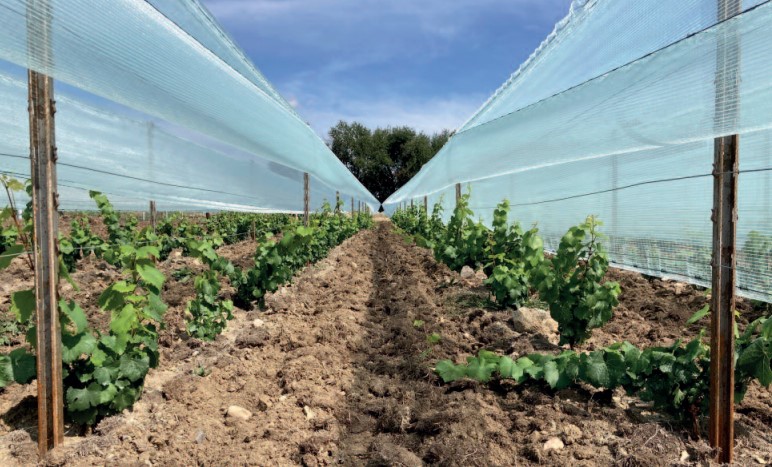 Roussillon is better known for its dry, still wines and Vins Doux Naturels but some innovative producers are shaking things up, now producing and commercialising sparkling wines from the region.
One example is Domaine Lafage, who launched a new sparkling rosé over the summer, a debut for the estate and the first of its kind to be exported out of Roussillon. Other winemakers are looking to follow suit and make the most of the continuing growth of the sparkling wine category.
Catalan oenologist Hervé Sabardeil and his associates Vincent Ginestet and Gilles Blanc, from le Domaine du Col Rouge in French Cerdagne in the Pyrenees, are taking the idea further. They are not only intent on producing a new white sparkling wine but on doing so at an altitude of 1,250m.
It's their answer to adapting to climate change, planting 20,000 Chardonnay and Pinot Noir vines over 3 hectares. It's an incredible challenge, one which has been on their mind for the past 10 years.
The first hurdle was to find the perfect plot of land, south facing, on a slope – to let the cold slide – and with water for irrigation. This search took Hervé four years and he nearly gave up.
The second challenge was that everything had to be rethought. Altitude impacts the vines which do not grow below a temperature of 10◦C. Their development cycle might be shortened by 2 months. The threat of frost is present until mid-May, instead of mid-April in the plains, and harvest will take place a month later, at the end of October (by hand).
Finally, a huge amount of investment has taken place: protecting vines from the August hail with a customised net system, building special fencing all around the vineyard to keep away (but not harm) hungry deer enticed by young shoots, and installing a weather station with humidity sensors.
It's all very experimental still but incredibly exciting to the three men. "All that remains to be done is to build the cellar!" jokes Hervé.
The verdict will be delivered in four-years' time when their wine joins other new sparkling wines from Roussillon on wine lists and dining tables.
Photo courtesy of Domaine Col Rouge