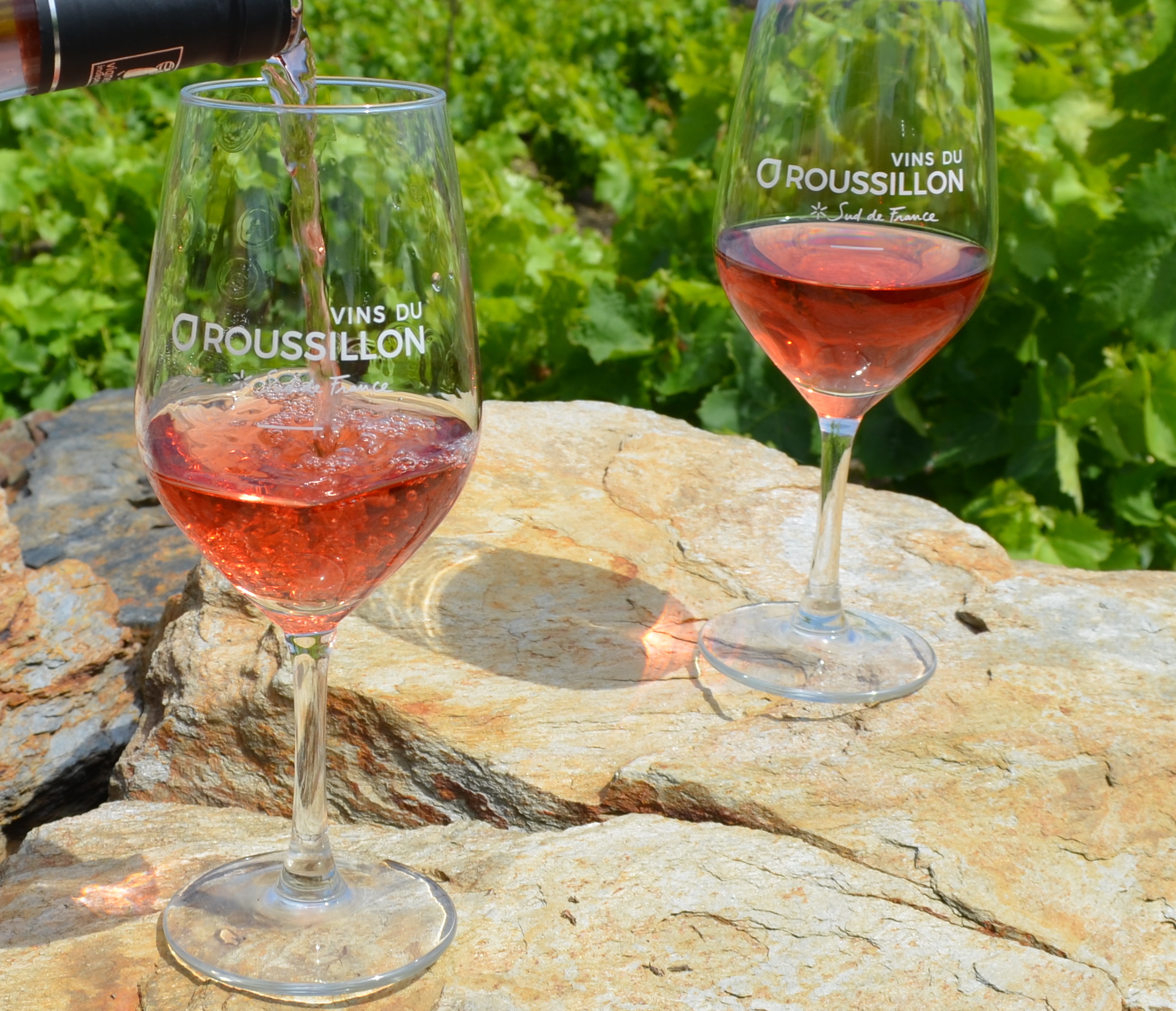 Discover Rosé from Roussillon
Summertime, and thoughts to turn to Rosé.
Roussillon, with its multitude of terroirs and grape varieties, has strength in depth. The result is Rosé fit for any occasion, from light and bright with red fruit characteristics, to more complex, weightier examples with Roussillon's hallmark mineral edge. And, of course, for those seeking out some of the region's more emblematic styles – fruity and fresh Vin Doux Naturel Rosé from Rivesaltes and Banyuls.
Dry Rosé is produced across a number of Roussillon's IGPs and AOPs.
IGP Côtes Catalanes and IGP Côte Vermeille produce mainly light, fresh wines with red fruit and floral notes.
AOP Côtes du Roussillon rosés can be similarly fresh with echoes of small red fruit and flowers.
AOP Collioure Rosé produces fresh but strong wines, with a complex combination of red fruit with fine minerality.
Winemaking and grape selection play a central role in determining Roussillon's Rosé styles. For example, Domaine Lafage's Miraflors Rosé draws on Mourvèdre, Black Grenache and Grey Grenache for a pale and racy example, while Mas Bécha Classique Rosé uses Syrah and Black Grenache with about 10% of the blend fermented in oak to create a rounder, fuller feel. Both wines will be available at the Wines of Roussillon Trade & Press Tasting 2022. Take a look at all the Rosé wines that producers and importers are showcasing here.
Sweet and medium Rosé styles are produced in two of the region's iconic Vin Doux Naturel appellations.
Rivesaltes AOP and Banyuls AOP make fresh, young wines, with echoes of currants, blueberries and pomegranate.
While much of Rosé's pleasure is in its uncomplicated sipping, Roussillon's pinks make perfect combinations with food. Ideal with fish and shellfish, Roussillon's dry Rosé wines should also be considered with cuts of cold meat, tapas, and aromatic Asian dishes.
Sweeter styles can make an ideal match with fresh fruit and fruit tarts, as well as ice creams and sorbets. Find out about Roussillon Rosé's food pairing powers here.