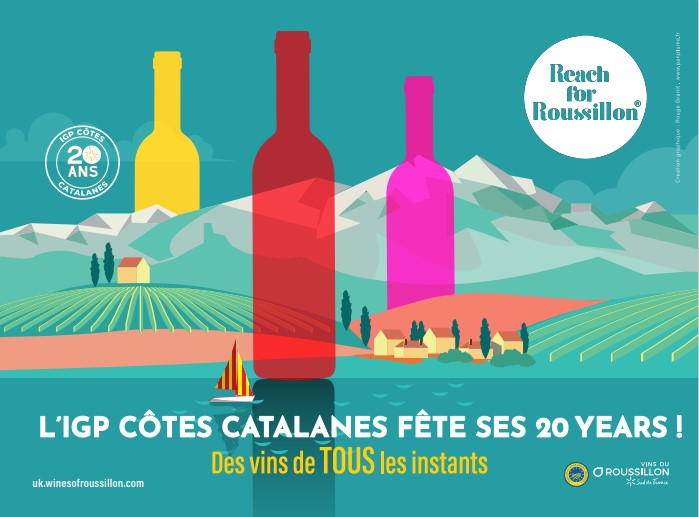 IGP Côtes Catalanes is 20!
Having always been defined by its diversity, IGP Côtes Catalanes became an official appellation in October 2002.  The combination of a multitude of terroirs, a great range of authorised varietals, and the passion of wine growers have given rise to wines with elegance and authenticity. The appellation is a perfect incubator for creativity and talent resulting in many exciting and innovative wines mixing modern winemaking with Catalan soul.
Diversity of terroirs
With nearly 65% of the region's total IGP production (138 861 hectolitres in 2021), it is Roussillon's main IGP appellation. It covers 118 communes in the Pyrénées Orientales department (3,993 hectares in 2021) where the landscape ranges from steep-sloping hillshides to valleys and terrasses.
This is a collection of Mediterranean terroirs with garrigue-covered hills. The hot dry climate and very low rainfall mean that vines work hard to find water, pushing roots down deep in the soil to find moisture. Cooling winds and the influence of mountains or the sea help vines find balance.
A wide range of varietals
IGP Côtes Catalanes permits the use of varietals sometimes not authorised under other appellations. This diversity gives significant freedom to winemakers who want to produce wines with a strong Catalan identity for example. There is also plenty of space for experimentation and the ability to create mono-varietal wines for example.
Principal varietals for reds and rosés include black Grenache, black Carignan, Cinsault, Lledoner Pelut, Mourvèdre, Syrah, Merlot, Cabernet Sauvignon, Cabernet Franc, Chenanson and Marselan.
The principal varietals for whites are white and grey Grenaches, Macabeu, Malvoisie du Roussillon, Marsanne, Roussanne, Vermentino, Muscat d'Alexandrie, Muscat à petits grains, Chardonnay, Sauvignon blanc and Viognier.
Wine styles
The results are still, dry white, red or rosé wines with character, authenticity and freshness.
IGP Côtes Catalanes Whites can be fine and delicate, for easy-drinking and perfect for aperitifs. The appellation can also produce more concentrated whites with richness and structure, often blends making the most of authorised varieties.
IGP Côtes Catalanes Rosés are fresh young wines brimming with red fruits and floral notes. Vibrant fruity rosés that retain elegance.
IGP Côtes Catalanes Reds can produce light, approachable reds for everyday drinking. It is also behind really powerful, fleshy and expressive reds.
Rancio
Another particularity of the appellation is that, for the past decade, IGP Côtes Catalanes whites, reds and rosés can acquire the mention "Rancio". Typical of the region and the result of an ancestral know-how, those oxidative wines are an integral part of Roussillon viticulture. The wines are aged in an oxidative environment for a minimum of 5 years. With time, they take on a dark amber colour with golden brown hues and, in the mouth, reveal aromas of dry fruit, typical of rancios.
For more information on IGP Côtes Catalanes click here and wines available in the UK can be found here.