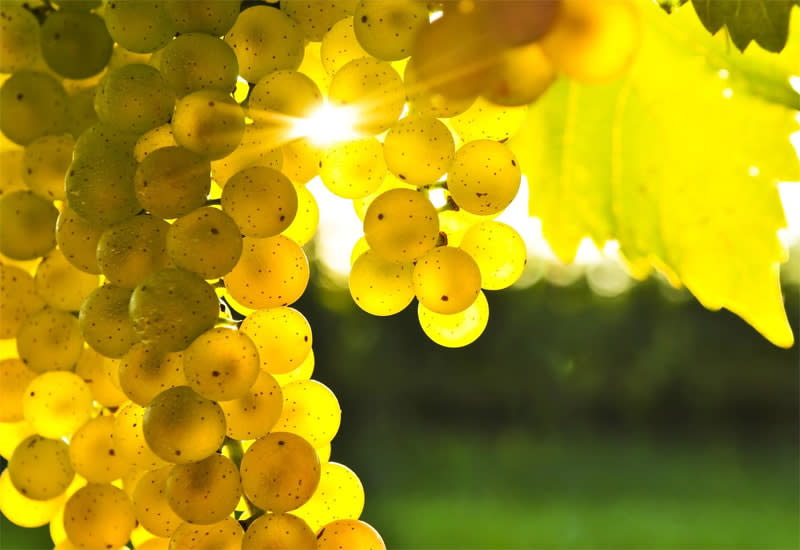 Muscat: the unsung hero of Roussillon?
Grenaches, Carignans, Syrah, Mourvèdre, Macabeu are often the varietals that spring to mind when considering the signature wines of Roussillon but there is one name in particular which has shaped the fortunes of the region for centuries: Muscat.
Muscat is not a single variety but rather a family, and Roussillon's success revolves around two in particular – Muscat d'Alexandrie (Muscat of Alexandria) and Muscat Blanc à Petits Grains (Small Grain Muscat). The pair have distinct profiles, yet both thrive in the warm Mediterranean conditions. They are at the heart of many of the region's iconic Vins Doux Naturels (Fortified Sweet Wines), as well as its dry whites.
As its name suggests, Small Grain Muscat is characterised by its small, concentrated berries. Its fresh and complex aroma carries notes of citrus, exotic fruit and delicately musky spices to create a vivacious, rich and smooth wine. Its sibling Muscat of Alexandria is large, firm-skinned and particularly fragrant. It is characterised by minty, floral notes together with white and yellow flesh fruit. It is an ideal blending partner with Small Grain Muscat, contributing elegance and power in the blend. Together, the pair have propelled Roussillon's reputation as producer of fine fortified sweet wines.
Muscat of Alexandria and Small Grain Muscat are the only two varietals permitted in the production of AOP Muscat de Rivesaltes, which in 2021 accounted for 60% of all Roussillon Vins Doux Naturels AOP sales. As young wines, AOP Muscat de Rivesaltes are vibrant and attractive with a pale gold colour and echoes of peach, lemon, mango and mint. After several years, the golden hue becomes deeper and the flavours evolve into notes of honey and preserved apricot.
The youngest, freshest wines hold a special place in Roussillon. Muscat de Noël or Christmas Muscat is the first Muscat de Rivesaltes of the vintage, bottled at the end of the harvest and available from the third Thursday in November until the end of January. Its production follows strict guidelines. The wine must be bottled at the domaines no later than 1st December and the label must feature the vintage and the name 'Muscat de Noël'. The result captures the freshness and crunchiness of freshly picked grapes, with notes of citrus, tropical fruit, white peach, lychee, orange blossom and mint – ideal to be enjoyed over the festive period.
Muscat's story does not end with white AOP Muscat de Rivesaltes. It is also used in blends for AOP Rivesaltes Tuilés, Ambrés and Rosés, as well as AOP Maury Doux Whites and Ambrés. The varietals are equally at home in Roussillon's dry whites, bringing their hallmark floral, exotic and citrus fruit aromas to blends from IGP Côtes Catalanes and IGP Côte Vermeille, and sometimes starring in 100% Muscat IGP wines. Their fine aromatics backed by refreshing acidity makes them great aperitif wines, as well as a perfect match for spiced foods.
Photo www.vinovest.co